Helping Molders Since 1949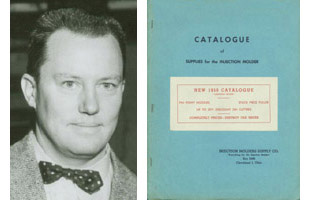 Did you know that IMS Company's Founder A. Reynolds "Ren" Morse was the designer of Van Dorn's very first injection molding machine?
It wasn't long before Mr. Morse realized the need for a plastics molding supply company, so he humbly started a small business and originally named it "Injection Molders Supply Co.". Ever since those early days IMS Company has been an integral part in the development of the plastic injection molding industry.
Since 1949 we have consistently assisted molders by offering innovative process improving products with friendly helpful service. Additionally, IMS Company has been providing top notch technical engineering expertise to help molders shorten shot cycle times, improve finished products, save valuable set up time, reduce costs, and solve difficult molding issues when no one else could. Going forward we strive to continue to lead the molding community into the future.
We believe in being more than just a source for parts, supplies and equipment. We pride ourselves in offering well over 165 years of combined experience from our industry experts at no extra cost to our customers.
Choosing IMS Company to do business with is like choosing a molding partner that you can rely on, a partner that will be there for you when you need us most.
Whether you are new to us or not, we welcome you to experience the IMS difference where you count on:
QUALITY parts, supplies and equipment many of which are for customer driven needs
Dedicated technical help line 866-467-9001
World Class friendly and courteous sales and service group available by phone or email - bilingual in English and Spanish
Información de Producto en Español
Streamlined easy to navigate website with fast and simple ordering
Full color print catalog with various technical tips, recommendations and valuable information throughout
Click here to request your free catalog
Same day shipping on most orders, same day delivery available
Giant warehouse with miles of aisles stocked with what you need
Hassle free 30 days from date of purchase returns policy and a solid 2-year equipment warranty
Confidence, IMS Company is an ISO 9001:2015 quality certified company who is regularly audited by an independent firm
Trust and ethics, you can depend on IMS to be your honest and principled business partner
Behind the name IMS Company, we are a family owned business with a dedicated staff and a long-established history of satisfying the needs of our customers. Furthermore, Ren Morse believed in always taking care of the molder above all else. We are not about to change that approach - you have our word on it!
IMS Company is a member of: