International Standard Organization
(ISO) 9001:2015 Certification for IMS Company
Certification Date: 1998
Recertification Date: September 6, 2018
Expiration Date: January 27, 2023
Contact IMS for a copy of our Certificate of Registration at 440-543-1615 or click here for a copy in PDF format.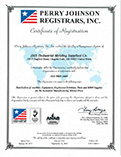 IMS Company is pleased to announce the achievement of ISO 9001:2015 recertification as of September 6, 2018. IMS became registered to the international quality standard after passing a comprehensive audit by Perry Johnson Registrars, Inc. in 1998. IMS is the first company that offers a complete line of molding equipment to gain ISO 9001:2015 certification. Our Quality Management System has successfully maintained ISO 9001:2015 certification through regularly scheduled bi-annual audits since 1998.
IMS Company is the original supplier of equipment and accessories to the Injection Molding Industry. Founded in 1949, IMS has continued to maintain its high standards of supplying superior products with off-the-shelf, on-time delivery to the plastics molding industry.
IMS' commitment to quality is a process of continual improvement.
Do not be fooled by any supplier who gives the false impression that "they" are ISO Certified by placing statements like
"Manufactured In A Quality System Certified Facility" on their catalog pages and ads; demand to see "their" Certificate of Registration.
As a company, we have officially adopted the Quality Policy Statement below to best serve our customers.
Quality Policy Statement
IMS Company's Quality Policy is to provide unsurpassed customer satisfaction by offering superior product value, timely product delivery and ongoing product support.
IMS Company promotes a commitment to satisfy applicable requirements, continual improvement and setting of Quality Objectives established within our ISO 9001 system.