Press Release
April 29, 2015
IMS Delivers a New Option for Plastic Molding Maintenance: The IMS Screw Handler
Designed specifically for injection and extrusion molders, the brand new IMS Screw Hander facilitates the handling and transportation of hot molding screws while keeping maintenance workers safe.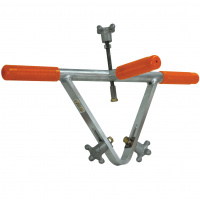 IMS Company answers an industry need with its latest catalog addition: the IMS Screw Handler for injection molders and extruders. Designed off the end user needs of a rugged construction that is made to last, the Screw Handler is simply inserted onto a hot screw for safe and fast transfers.
The IMS Screw Handler promotes process uptime by enabling maintenance workers to quickly set the device over a hot screw and safely transport it for fixing, cleaning, or change outs. The Screw Handler's contact points are made from brass, which safeguards expensive screws from marring, scratches, and dents typically seen when previously moving a screw by other methods.
"Transporting a screw can serve to be a tricky and sometimes dangerous process. The IMS Screw Handler prevents transportation damage of new or old screws, while also boosting safety for employees by increasing handling methods and decreasing chances of accidental contact with a hot screw. This is a must-have item for any molding shop's maintenance area from its time saving, safety management, and risk prevention aspects." -Steve Martini, Product Specialist at IMS Company.
When it comes to quality and innovation for products in the plastics processing industry, IMS has been a pioneer since its founding in 1949. Minimizing and preventing downtime to keep molding shops up and running is what IMS specializes in with its strong customer services, in-stock parts, and technical help. The IMS Screw Handler is a great example of IMS' dedication to original products that are specifically designed around customers' need for unique tools and components that make processes more efficient.
Built with a triangular aluminum body that a molding screw fits into, the IMS Screw Handler also incorporates heat protective handles and quick adjusting knobs for the brass heads. The device is engineered to fit a wide range of screw sizes, facilitating on-site use while removing the headaches and delays previously associated with hot screw handling.
The new IMS Screw Handler fits screw sizes from 40mm(1-9/16") to 80mm(3-1/8") and is available in-stock. They can be purchased individually or as a set of two.
Click here to view details and pricing of the new IMS Screw Handler
or call 800-537-5375 more information.