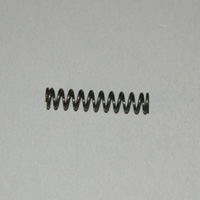 $4.60 dz
Description
Coil Spring for 7" Economy Series Cutters. Packaged in Dozens.
Specifications
OD: .184
Length: .930
No. of Coils: 11.75 (Total)
Wire: .026" Dia. Music Wire Spring Steel
Ends: Closed; Not Ground
Note:
Spring is not to be preset; Spring is not
to be shorter than .850" after being
compressed 1 time to solid.