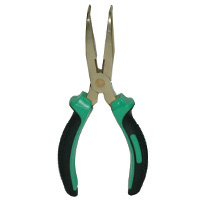 $51.50 ea
Description
Bronze Sprue Puller Tool, Model Bnn458 8" Needle Nose Plier With Contoured Grips. Includes 45 Deg Angled Tapered Jaws And Gripper Slot To Pry And Cut Plastic.
Specifications
Overall Tool Length: 8"
Maximum Jaw Opening: 2-1/8" (Tip) 1/4" (Base)
Overall Jaw Length: 2-1/2" (Approximately)
Serrated Gripping Length: 1-1/8"
Bent Tip Length: 3/8"
Beveled Gripper Slot Length: 1/2"