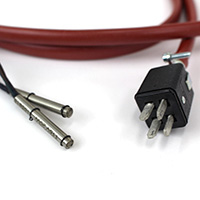 $75.00 pr
Description
Upgraded Cartridge Heaters for IMS Brand Heated Gate Cutters Model FH2 and FH2-45. 40 Watt Pair (20 Watts Each Heater) Includes Plug & Retaining Clips. *Upgraded with Better Quality Heaters & PTFE Coated Wires for Easier Installation.
Specifications
Dimensions: 3/16" OD x 1-3/8" Long
Electric: 115 Volt 20 Watts each
Leads: PTFE Insulated Leads Approx 51" Long
Overall Assembly Length: 71-1/2" to 73"